OUR ANGELS AT RAINBOW BRIDGE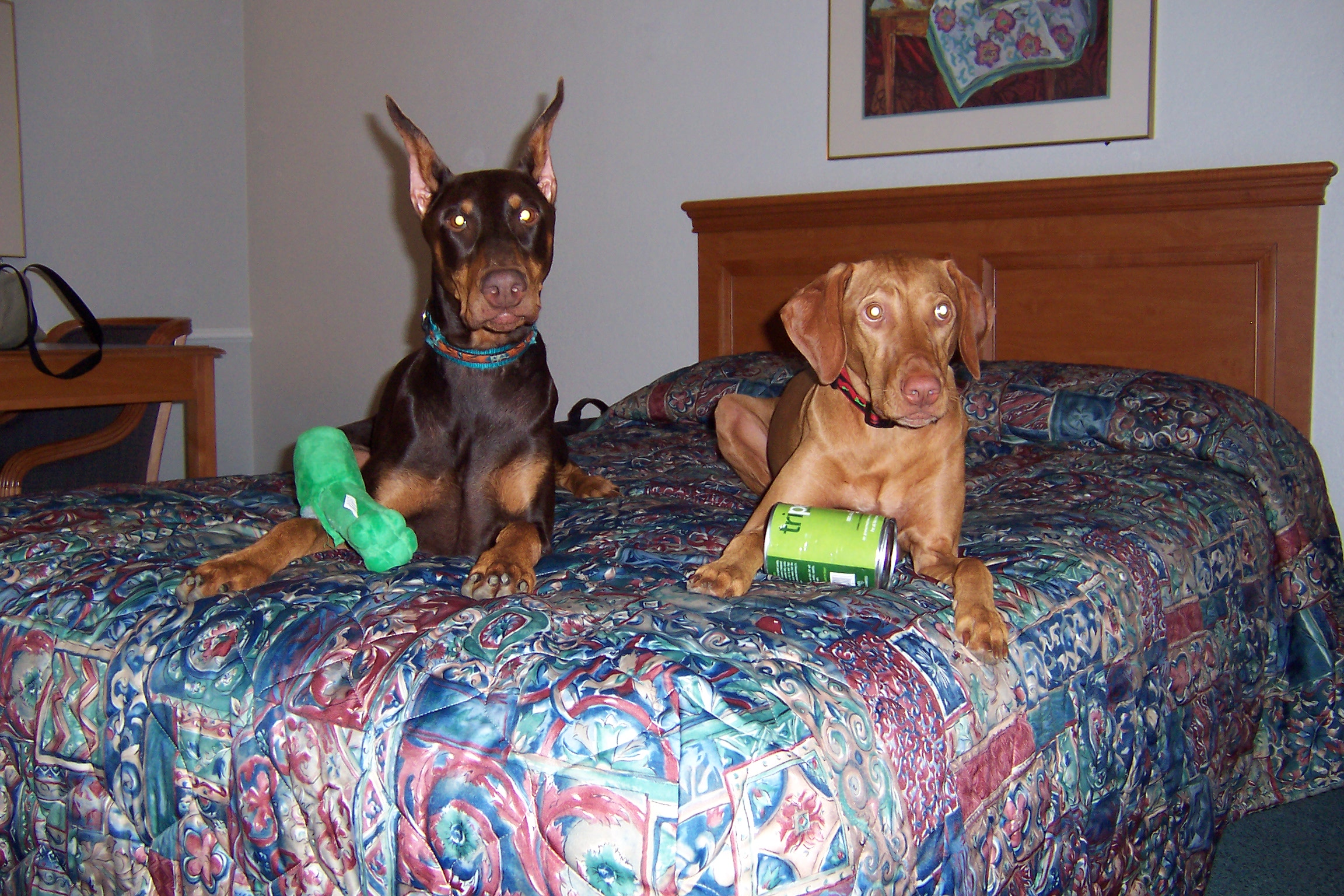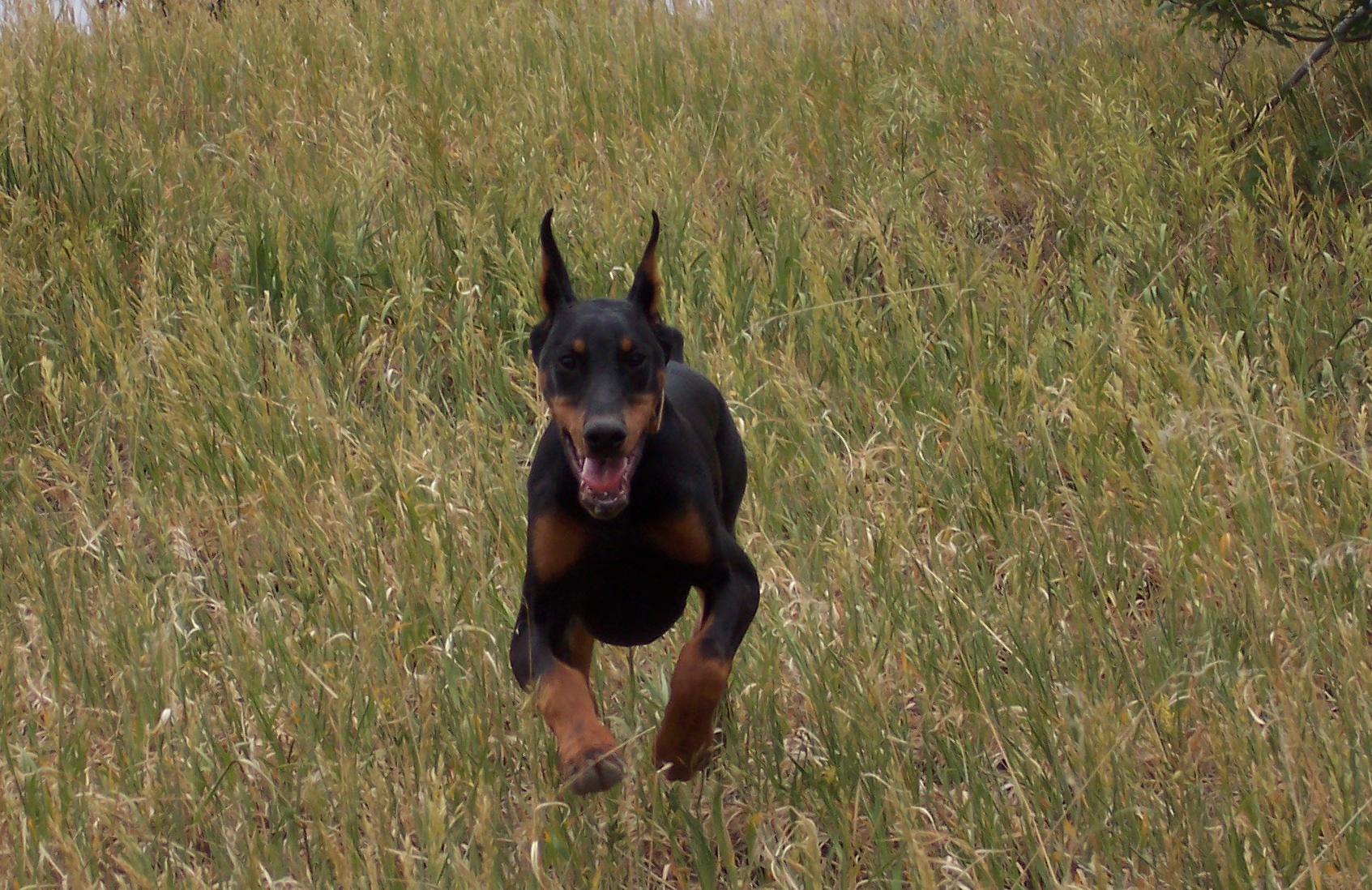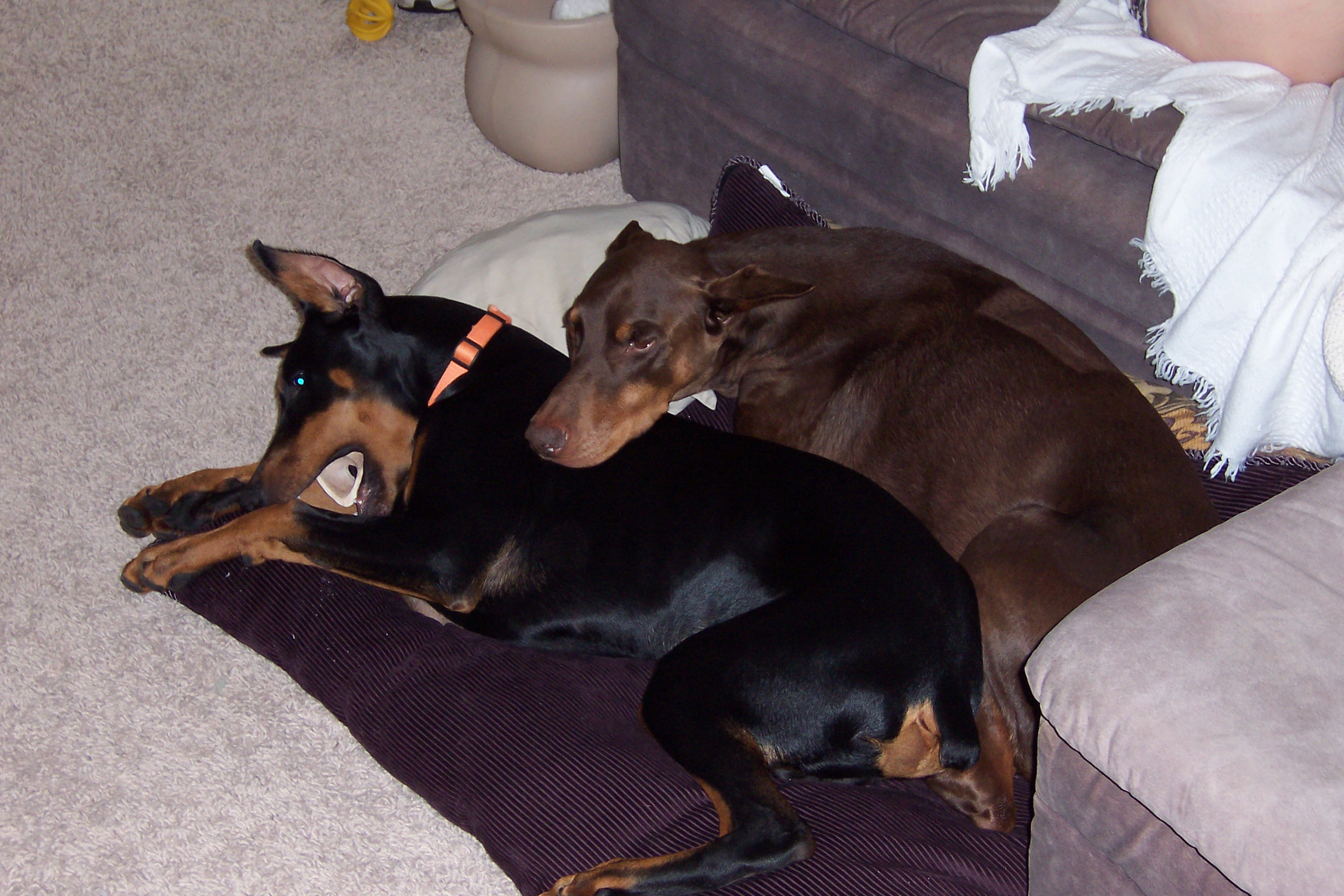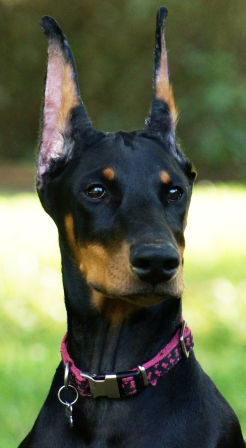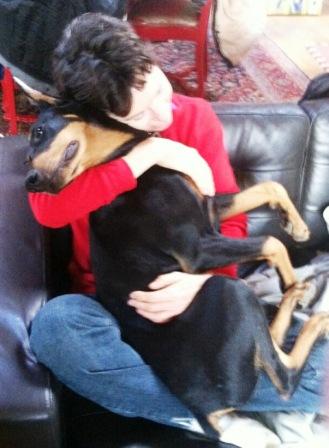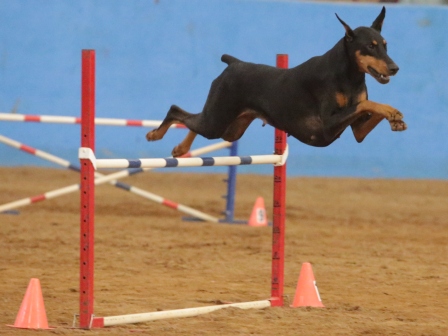 ♥OUR LIVES ARE FOREVER CHANGED WITHOUT YOU HERE WITH US♥
OUR #1 " BLAZE" – Montwoods Hi Roller of Delcrest CDX OA OAJ CGC TT U-CDX ASCA CDX (AKC pointed)
5-9-95 to 4-24-05 Bred by Vic & Angie Montleon of Montwood Dobermans
Blaze passed away 2 weeks shy of his 10th B-day from heart failure. He was a 1 in a million Doberman with his energy, drive & intensity. He taught me so much about the wonderful Doberman breed and we loved him for every minute of it!!
"COCO" Mariah's Coco Von Koepsel CDX AXP AJP RN CGC U-CD NAC (Coco had many more Q's toward her MXP & MJP and in other registries but not enough time to finish her titles before she was gone 🙁 I appreciate all she gave me!! )
9-6-00 to 2-21-2009
Coco passed away from heart failure at age 8, just way too young 🙁 She was a very sweet, loving girl that just did her work for ME. She was a very special doberman to train as she was afraid of the world & needed a lot of encouragement & trust from everybody & everything to just do it. I am so proud of all her accomplishments & her trust in me. Sleep softly daddy's "little Pumkin".
"LASER" U-Ch Quartets Symphony of Praise RN CGC 11-25-10 to 1-24-12. Sadly, I was notified by Laser's mom that he was tragically hit by a car & was killed while having a run at his favorite place Tuesday afternoon. The emotion & sadness is so very painful but I know in my heart that Laser was loved very much & had a wonderful 14 months of life up until that moment in time. Laser was a very special, energetic & thinking Doberman puppy dog that loved so many things & did so many things very well. He was training in obedience, rally, agility & learning to become a Therapy dog. He was & always will be an ambasssador for our Doberman Breed even though his time with us was so short.
DIESEL–ADAMAS Arches Fiery Furnace CDX RAE OA OAJ U-CDX CGC (AKC pointed) Had 2 Q's toward his UD
DOB 1-14-2004 – 10 -3 -2012 Bred by Elizabeth Barrett-ADAMAS Doberman
Diesel at almost 9yo sadly was lost to CHF at this years Nationals. It was very sudden & I am grateful I was with him at his time of need to pass & go to rainbow bridge. He was a wonderfully, smart & always full of life & energy. This dog has been so much fun to work & show and has exceeded my goals & expectations. He truly loved it all & always put tons of energy into his work. I love you dearly DeeDers dog & rest in peace knowing you are with us in our hearts FOREVER!!!
UKC CH Quartet's Blissful Fortune Hycaliber "ASHUR"
Born 11-25-2010 Dam UKC GR CH AKC CH Pawshere Never a Dull Moment CDX RE MX MXJ NF CGC U-CD U-RO1 U-AG1 CL-3(Fiesty) x Sire CH Sunburg's Spectacular Bid (Rafa)
Was owned & loved by Chris & family in FL.
Ashur has gone to rainbow bridge due to possible poisoning in FL but will always remain in my familes heart..love you special boy!!
"DRAC" CGC My dear tenderhearted Rottweiler – OK this dog still tears me up inside as he was my soul mate thru & thru. Drac was just a "find me" dog. He worshiped the ground I walked on & never left my side. He was a sweet soul of a Rotty & loved to play ball limitedly due to his elbows being displastic. He could not do any performance due to his slight lameness but was a wonderful dog to share our lives with.
Drac died from bone cancer at age 8
"TRINKA" CGC My first Rottweiler- Trinka was a fun Rottweiler that loved to swim, hike, & go for car rides. Trinka just adored my late father Eugene W. Wolo and went to work with him & I daily. Trinka sadly was very dog aggressive so she was never able to be shown in OB but she loved to work & train.
Trinka was lost to bone cancer at age 7 after attemptign to treat her at CSU. She was alive a few months til the cancer came back sadly.
"FIESTY"
AM CH MACH U-GRCH PAWSHERE NEVER A DULL MOMENT CDX RE MXB MXJB OF CGC U-CD U-RO1 U-AG1 CPE CL-3 *AKC OB HIT winner & 3x UKC OB HIT winner *
DOB 7-30-2007 -1-2016 Lymphoma Bred by Mary K Browning of Pawshere Dobermans, Montana
*FURY* YOUR BEAUTY & HEART LIVES ME EACH DAY SWEET SOUL!
*NEW* U-GCH QUARTET'S N CINEMATIC'S EAT YOUR HEART OUT BN RN CGC WAE
"CORA" adorable sWEETNESS IN THE MAKING!
Quartet's Dos Corazones (UKC pointed)
DOB 4-14-2013 to 2-2016 Complications due to a Diaframtic hernia
OUR DOGS
"GINO"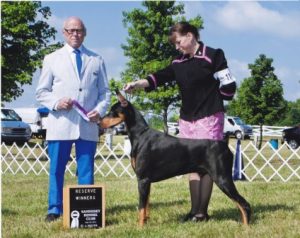 INT'L-CH U-CH Quartet's Grand Moment "GINO" (AKC pointed)
Born 11-25-2010 Dam UKC GRCH AKC CH MACH Pawshere Never a Dull Moment CDX RE MXB MXJB OF CGC U-CD U-RO1 U-AG1 CL-2(Fiesty) x Sire CH Sunburg's Spectacular Bid (Rafa)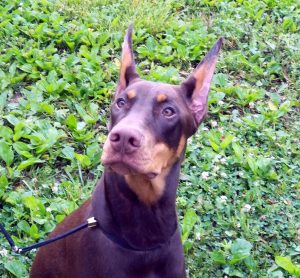 "CASTLE"
U-CH Quartet's Mystery Writer
Born 11-25-2010 Dam UKC GRCH AKC CH Pawshere Never a Dull Moment CDX RE MXB MXJB OF CGC U-CD U-RO1 U-AG1 CL-2(Fiesty) x Sire CH Sunburg's Spectacular Bid (Rafa)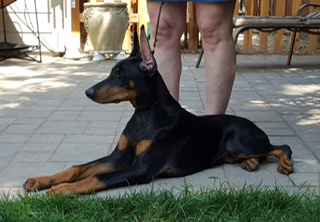 *KONIG*
Quartet's Lion King NA NAJ OA OAJ CGC WAE (akc pointed)
DOB 4-25-2015 Pinkus x Callen
DEXTER-Quartet's I Just Want to Celebrate TKN (AKC POINTED)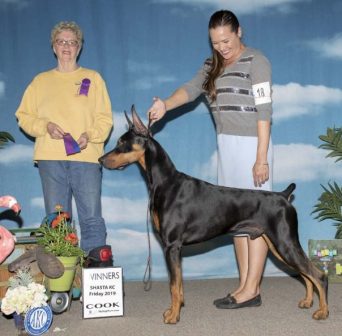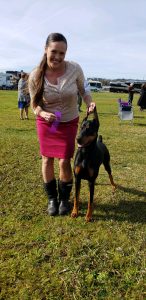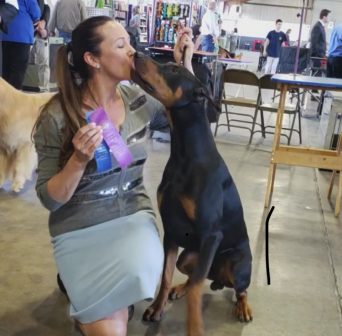 Dexter is a smart, energetic boy starting his show career with back 2 back winner Dog & 2 Reserves. Expertly presented by Erin Piercy. Dexter LOVES scent work, Obedience and EVEYTHING else that involves doing & going.
DOB 3-3-2018 Bling x Bravo Loved & trained by Heidi
*WILLY*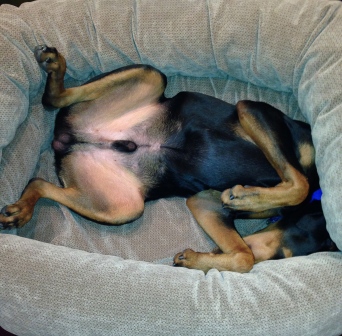 Quartet's Big Hearted Little Willy
DOB 4-14-2013 Dam "Fiesty" UKC GRCH AKC CH MACH Pawshere Never a Dull Moment CDX RE MXB MXJB OF CGC U-CD U-RO1 U-AG1 CL-2 x Sire"RICKY BOBBY" Multi BIMBS/RBIMBS AM CH/UKC GR CH Catawba's Power Play CD RA BH SchH1 ATT ROM U-RN
*BLADE*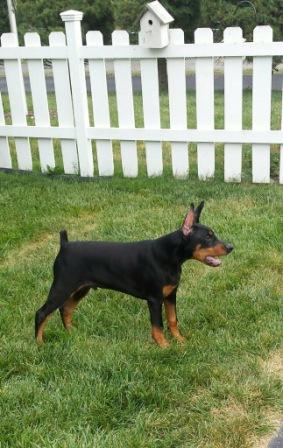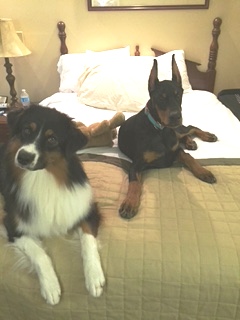 Quartet's Blade Ranger is loved by Anthony & Family in Ohio
DOB 4-25-2015 DAM: PINKUS SIRE: CALLEN
2019 T20 Obedience finalist #13 CH U-CD U-RO1 U-SC U-SI U-MC Quartet's How To Train A Dragon CD CDX UD ROM Superior Scent
"Jon Luc"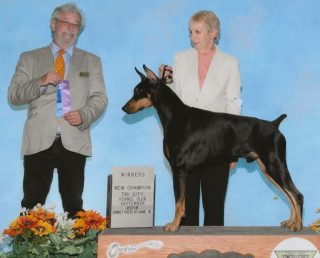 Owner handler finished-T20 Contender 2018-Multi High in Trial Winner- Scent Dog Master
Loved & trained by Cindy Herl – Utah
***************************************
NEW CH Quartet's Get The Party Started TKN
This special boy finish at 9 months with 3 majors & a Best of breed 5pt major. Breeder handled with assistance by Erin Piercy. Cooper has a bright future ahead of him with his loving family Dee & Chuck. Bling x Bravo DOB 3-3-2018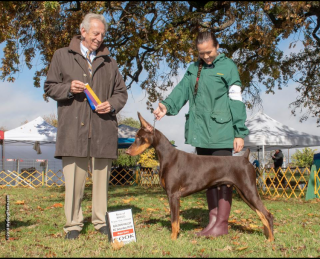 "Cooper"